I am a mother, writer, creative entrepreneur and an explorer of both the world around me and within me. In my former life I did marketing and public relations for a string of great companies in California including Whole Foods Market and the PlumpJack Group. Now, after more than a decade of denying my restless nature, I've finally given into my gypsy ways, and I'm bringing my family along for the ride.
This is the story of our life: a wild-hearted California girl and a reformed Argentinean ski bachelor giving up everything to redesign the way we live, save our marriage, and start following our curiosity at every turn possible.
someday we're going to sail around the world with our two kids…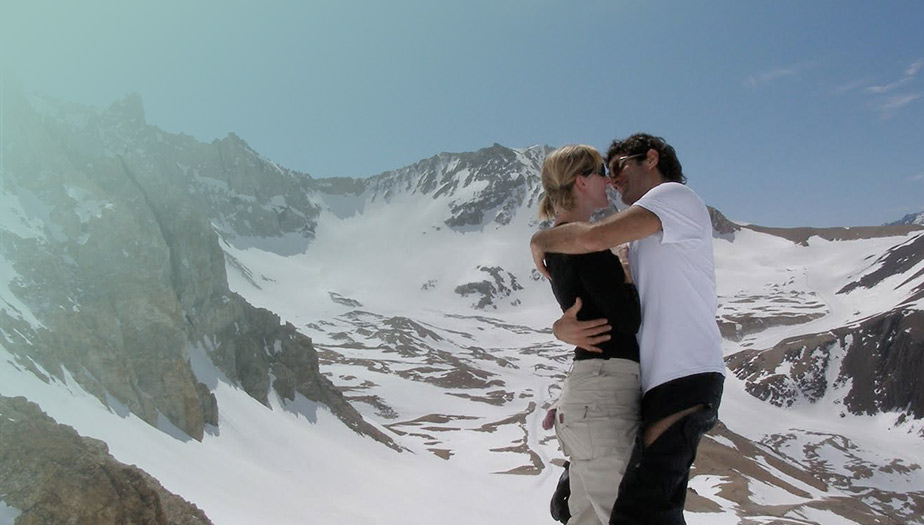 Our story together began in the Pyrenees between France and Spain when an English teacher met a ski instructor in a smokey Spanish Disco. Several vodka red bulls and a few months later, we promised each other forever under the neon lights of an Ibiza seaside cafe. It was fast, it was reckless, it was right.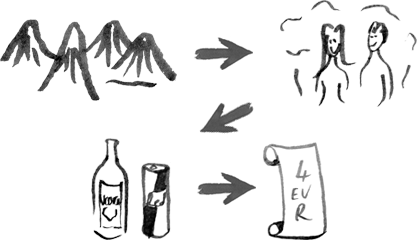 Fast-forward six years and two kids later, to the mountains of Northern California, we did what young families do: got good jobs, bought a house and some furniture, potted bright-colored flowers on the front porch and lived for the weekend.
FOR A WHILE, WE WERE HAPPY.
But at one point, my husband and I were both working two jobs, our 18 month old daughter would wake every morning before 5 am inconsolable, and suddenly my husband and I couldn't stand each other.
I would rush off to work, frazzled, to find solace and comfort in the pressures and deadlines that seemed so much easier to manage than my home life.
What had changed was that the more we struggled to increase our income, the faster it seemed to dissipate into the ever-growing list of expenses. Like many couples with young children we were exhausted and it was easy to slip into blame and criticism. Our days were a blur of wrangling toddlers into clothes, battling to feed them a decent breakfast, rushing them out the door, and dropping them off at daycare, all before squeezing in a full 8 hours at work. Of course there were moments of joy, but the relentless demands chased the fun right out of our lives.
SOMETHING HAD TO GIVE.
Angry words were yelled, egos swelled, and we considered divorce. We even went as far as to talk about it with our son. But the look of devastation on our four-year old's face, when his dad told him he was moving out, made us ashamed of ourselves. The blame and anger softened to heartbreak. Something about being cracked wide open, allowed determination to take root. Determination to save our most precious gift–our time together.
What were we working so hard for anyway? Another bike? Another 2 week vacation? More clothes? A bigger house with more stuff in it? Seriously, what was more important than loving each other?
It was that day, with the afternoon sun streaming through the kitchen window, a pile of dirty dishes cluttering the sink, and a sobbing little boy, that we chose to completely redesigned our lives around our family. There was no amount of money in the world that could take away those enormous, painful tears sliding down my baby boy's cheeks, or the guilt in my heart.
I realized I could choose to focus on my husband's shortcomings or I could cherish the way only he can make our two babes laugh — the sweetest melody my heart has ever heard — and remember the simple truth that we love each other.
Devastation is a powerful force. You can let it destroy you, or you can let it transform you. Duke Ellington captured it so eloquently when he said,
"I merely took the energy it took to pout,
and wrote some blues."
Two years ago, I posted that quote on the bathroom mirror where we both faced it every morning before running off to play our respective roles in the daily circus of life. Those words became the cornerstone on which we recommitted to one another, to our marriage and to ourselves. Love is not always easy, in fact, it will stretch you beyond your comfort zone more than you'd like. But it is worth it. Inspired by that simple quote, and the longing to reclaim our hearts and adventurous spirits, we've walked out on our over-scheduled life and committed to something bigger.
Our curiosity and the dream that we will sail the world. We've decided to slow down and find the adventure in the everyday. 
So far, we've sold our home, as well as all of our belongings and are working to be completely debt free so we can reclaim our freedom.
We had a false start last October in Barcelona, and choose to come home to regroup our finances. We could have taken that as a failure and decided to give up, but instead the experienced actually made us more clear on how we want to live and feel each day. It also inspired the Cha, Cha, Cha of Success series, which shares how failure is actually a stepping stone on the way to triumph.
So far the biggest lesson through all of this, has been that we are the artist of our days. We can rush through this life, missing the things that truly matter, or we can slow down and savor the gifts hidden in each day.
We can create beauty and art in any given moment with whatever is available to us. And we'd love for you to join us in that vein. Not everyone has to go to the extreme of selling everything they own and sailing off into the sunset. Creative living can be as simple as picking up your camera again, once a week. Or sitting down to paint, and not worrying about what the final product looks like. Maybe it's learning to play the guitar at whatever age you are, or just doodling in your day planner. Basically it's about having more fun.
Through our travels and this blog, we hope to meet other bold spirits that can laugh at these ridiculously challenging and soul limbering experiences we call life. And to not take it all so seriously. After all, no one makes it out alive!
Thanks for being here.