"And, when you want something,
all the universe conspires in helping you to achieve it."
– Paulo Coelho, The Alchemist 
 A week before Christmas and our bank cards were shut down due to fraudulent charges by some scammy creep in Southern California. Fucking awesome. We're in Greece. And we have no money.
And yet our children were blissfully ignorant of their parent's financial woes. They were positive Santa would fulfill their heartfelt requests. A penny skateboard for Jax and a baby for Serfina.
The more ardent their belief, the further my heart sank into worry with each passing day.
I know with all that's going on at the moment internationally, these are first world problems. I do.
But there's only a few years short years of innocence where children can just be kids and not know of all the atrocities of the world. Where they're old enough to believe in magic wether it's Santa or any other mythical folklore. With a four and a six year old, we're in the golden zone of all this wondrous nonsensical fluff.
And so, with only one day to spare, we awoke to find an envelope tucked into our front gate.  Thank you sweet Jesus. Happy Birthday! There's nothing quite as precious as a giddy child on Christmas morning.
This morning as I watched them tear open the boxes they were certain held their heart's greatest desire (for the next month anyway!) I started thinking about their unwavering belief.
How even when I wasn't sure I'd be able to fulfill their requests, they knew in their little hearts that we would come through for them. What if we weren't able to? What if our cards hadn't arrived?
We're not always able to shield those we love from disappointment. It's part of life. I've certainly know my fair share, as I'm sure have you.
But because we have experienced let down, does that mean we will never again feel joy or bliss? Does that mean we should guard our hearts, always take the safe route and doubt all possibilities before it's proven any of it will come to fruition?
Is fear of failure and suffering why as adults are we so afraid to say what we truly want sometimes? Because by not allowing ourselves to really, really want something with all our heart, we avoid that awful torment of dreams lost.
Or is it because there is already so much suffering in the world?
We think, who am I to have so much happiness, or success, or good things happen to me? I should just be grateful for what I have. I have so much more than others. (By the way, gratitude really is the secret sauce to getting more. I'm sure of it.)
The truth is sometimes life will knock us down and split us open with a agony we're certain will kill us. That you can count on. Life is absolutely unfucking fair.
Innocent children will die, and people who have spread only good in their lifetime will suffer unnecessarily. Which is exactly why when you're enjoying one of those times where all is well in your world, you should absolutely enjoy every last second of it. You deserve it. You are worthy of every last one of your frivolous wishes.
If the roller coaster of the  last year has taught me anything, it's that when we have the courage to declare our heart's deepest desires first to ourselves and then the world—energies do conspire to help us realize our dreams.
Two years ago, I wanted nothing more than to be enjoying my babies and traveling the world. Instead I was dropping them at daycare and barely keeping up with my responsibilities financially and in every other sense of the word. At the time my secret wish seemed the most ridiculous dream in the world. If I could barely afford to cover my mortgage every month, how on earth could I afford airfare and a life of luxury for a family of four to jet set the globe? Dream on lady.
But it was a desire my husband nor I couldn't shake, and I realized the things that we love doing the most, aren't luxurious, they're what make live worth living. There's no point without those little pleasures.
In the last year, the whole world has indeed conspire to help us:
People literally all over the globe opened their hearts and homes to us. It was sometimes totally overwhelming to receive so much generosity from people. (Huge heartfelt thank you's to Michelle, Lisa, Scott, Suzanne and Mika. You guys are family from now to forever.)
Mentors appeared and gave of their expertise and time to help me create a living that would give me the freedom to also LIVE my life on my terms.
When we stumbled, and weren't sure what the next step was, nobody said I told  you so, they opened their hearts and homes once again and said come home. We love you. At least you tried.
After a week of brutal winds and dark, gloomy skies, we awoke to glorious blue skies and the glassy waters as far as they eye can see. It's the nicest day we've seen in over two months.
Tell me you don't believe in Christmas magic when you look at this view.
First lights on Christmas morning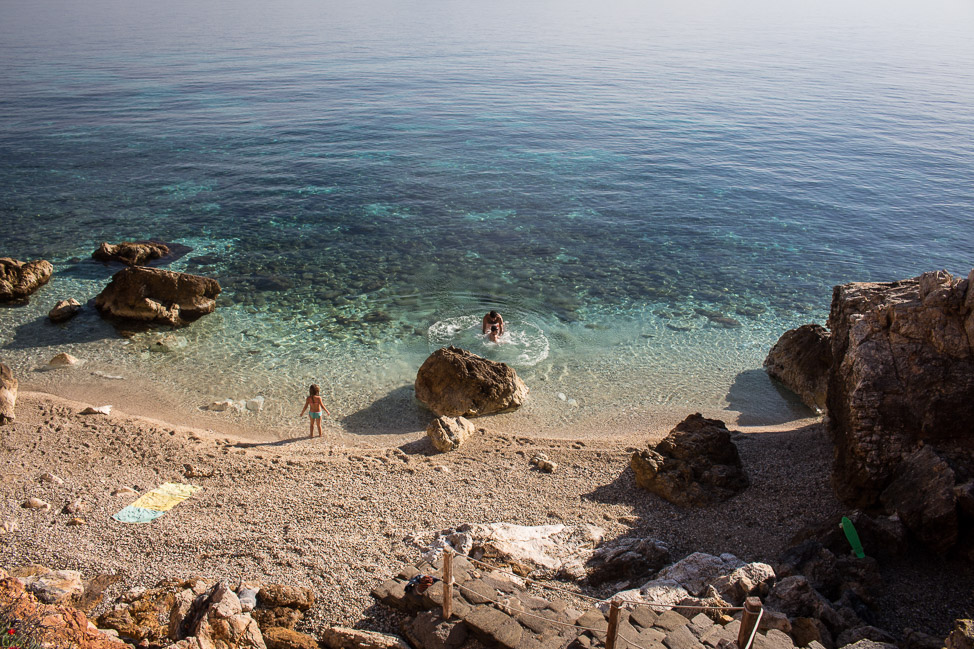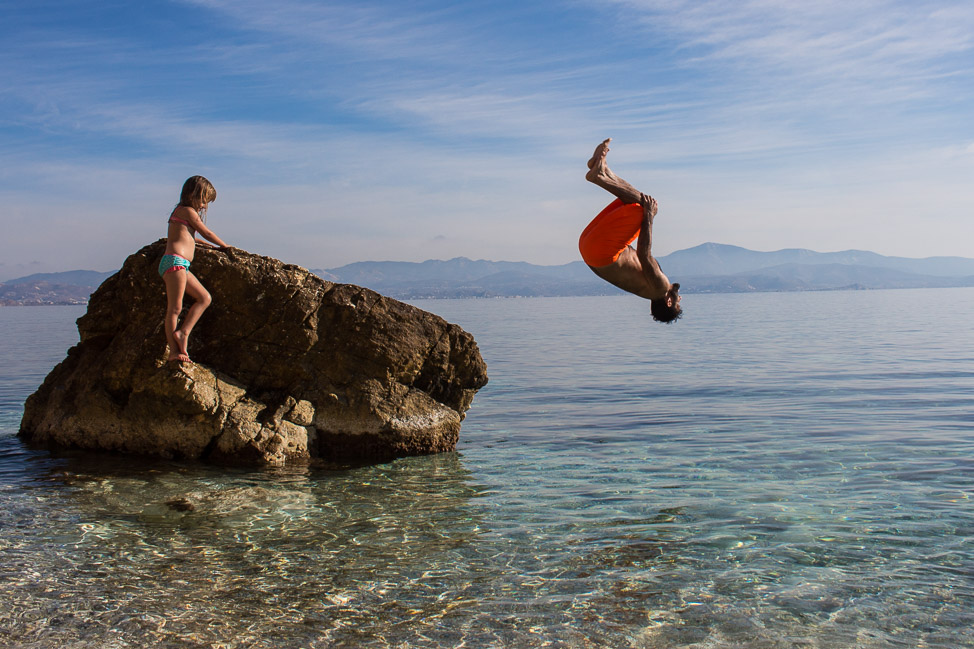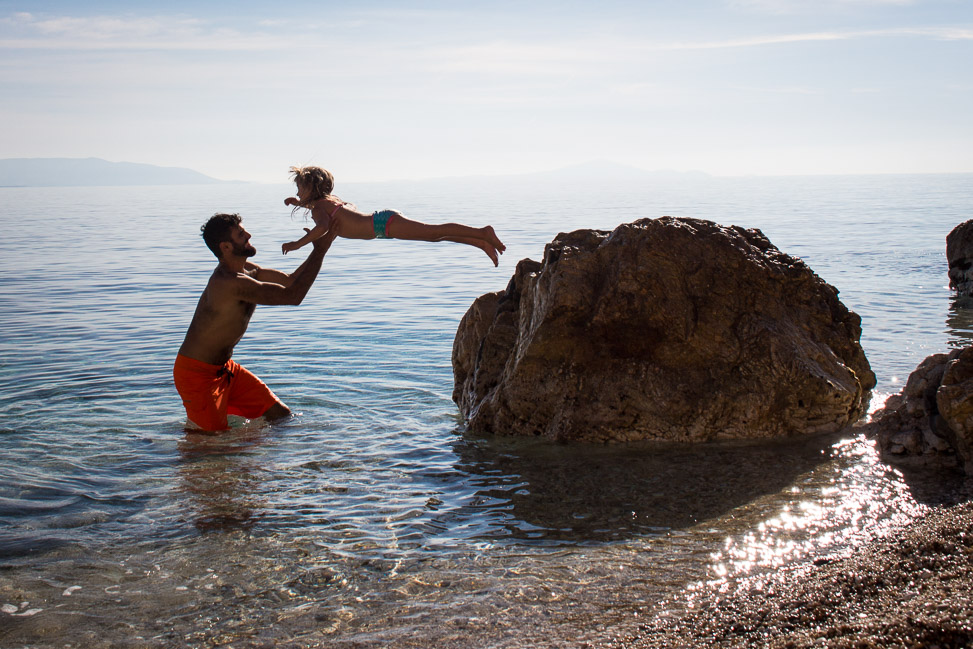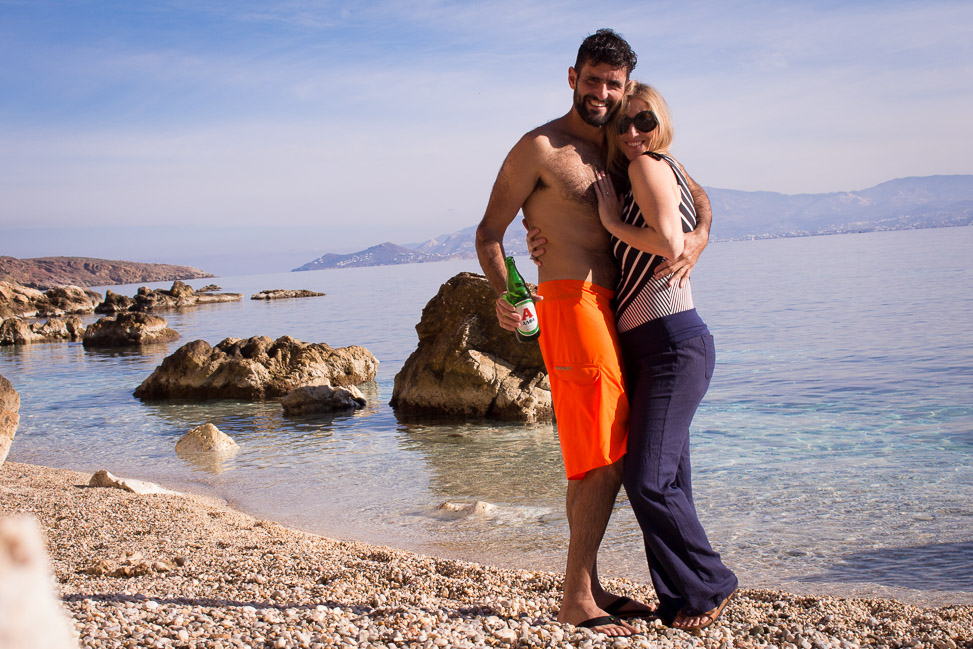 Lozano Christmas portrait 2015
Here's to honoring our passions, and believing with all we've got. Not that there won't be times we're disappointed, because there will be. But oh those times when it all comes together–that's what will get us through.
"It's the possibility of having a dream come true that makes life interesting."
– Paulo Coelho, The Alchemist
Like a kid on Christmas morning, let us hope for our dreams with all our hearts. Because I'm here to tell you, sometimes you might just get what you want.
Merry Christmas,