Happy New Year to all you Wild Hearts all over the globe!
I had planned to share a Year Review in photos, until I discovered I had inadvertently deleted a good portion of our photos from last year. Yea, awesome.
Oh well. I've always believed the best memories are written on the heart. And it's true. The most significant moments of my life are encapsulated in neither prints or pixels. Guess being a professional photographer isn't in the cards for me!
But losing all of last year's photos isn't what I wanted to share with you today.
On this second fifth day of January in the year 2016, I wanted to share how creativity brought the joy back to my existence, when I needed it most.
How taking the smallest of steps toward my own self care, ultimately created more stability, more patience and more love, for not only myself, but for those around me as well.
Why am I telling you this?
Because maybe you need this reminder as desperately as I did–that unless we take care of ourselves first, we don't have anything left to give others. It's that simple.
Because there's an incessant drum banging that women must sacrifice themselves (be it their career, their passions, their hobbies, or all of the above) for the good of their families and communities.
And I think that message is bullshit. And yet I lived it everyday, until one day it almost killed me.
I mean total self-sacrifice doesn't happen all at once;
It happens one small action at a time. 
I remember eating many cold dinners as I nursed a baby in one arm and cut my toddler's steak with the other.  I remember tiptoeing down the hallway in the cold, dark morning at 5am in hopes of an early morning run before everyone woke. I remember working overtime (as did my husband) so we could have a few extra bucks for Christmas presents. I'd volunteer for my son's school field trip, despite looming deadlines, which meant no sleep until they were met. You know this story.
For me it happened little by little, until I became accustomed to eating cold meals, and dutifully checking the monotonous items off my to-do list.
Life had become all duty and no fun. And anyone who knows me, knows I'm pretty damn fun. So wtf? If it can happen to me, I know it can happen to anyone.
I'm sharing this with you because I'm on the other side now. I didn't even realize how deep in a funk I was, until I could look back from the safety of a future vantage point.
If you're like me, you try and tell yourself we have so many things to be grateful for, others have it so much worse. There are mother's holding their babies, as they fight for their lives against horrible diseases with no cures. There are men and women who have sacrificed their limbs and lives for the safety and comfort of us all.
And each of us knows, that pain will indeed touch our life at some point. Suffering is as much a part of the human experience as any other emotion or sensation. I've said it before and I'll say it again, that truth is precisely why we have to seek out and create joy and beauty for ourselves. We have to make time for those things that make us feel alive. Because one day we won't be. And none of us know when that day will come.
Joy is what our brains are wired for. It's why since the beginning of time, humans have been creating art, music, theatre, entertainment, objects of beauty with whatever they can find around them.
And making things–wether it's a building a table in your studio, taking photographs, writing a book or a play, painting, or doodling is well, FUN!
And the good news? We reclaim ourselves and our joy (or at least I did) the same way we lost ourselves.
Little by little with the smallest of actions.
Anywhere we can find that little pocket of time, we can steal away and do something just because it feels good and feeds our soul. And I can say from experience, that is every bit as essential for our health and well being as food, water, shelter.
A winter solstice ceremony I hosted for my wild hearted Desire Map sisters. Lots of things I want to let go off from 2015, like perfectionism.
And we don't need a big, fancy art studio, or all the best materials to create. We don't need the top of the line sewing machine. We don't have to become the next Joni Mitchell–we can pick up that guitar and learn to play, simply because it brings us joy.
Last year I recommitted to doing things, simply because they were fun (and frivolous!) and it lead to all sorts of heart expanding and meaningful ways to not only be, but also create a living for myself.
I know we're already a week into the New Year. But as a crazy, chaotic mother to two, I've learned to start when I can, and continue when I can. No self-rebuking and sabotage necessary. I've amended my mantra to: The Art of the Start. And Stop. And Start Again.
Because really we're not saving lives here. Or maybe we are?
What will you create this year?
If you're looking to rekindle that fun, playful feeling you had as a kid, join me in this FREE workshop hosting by my team over at We Create.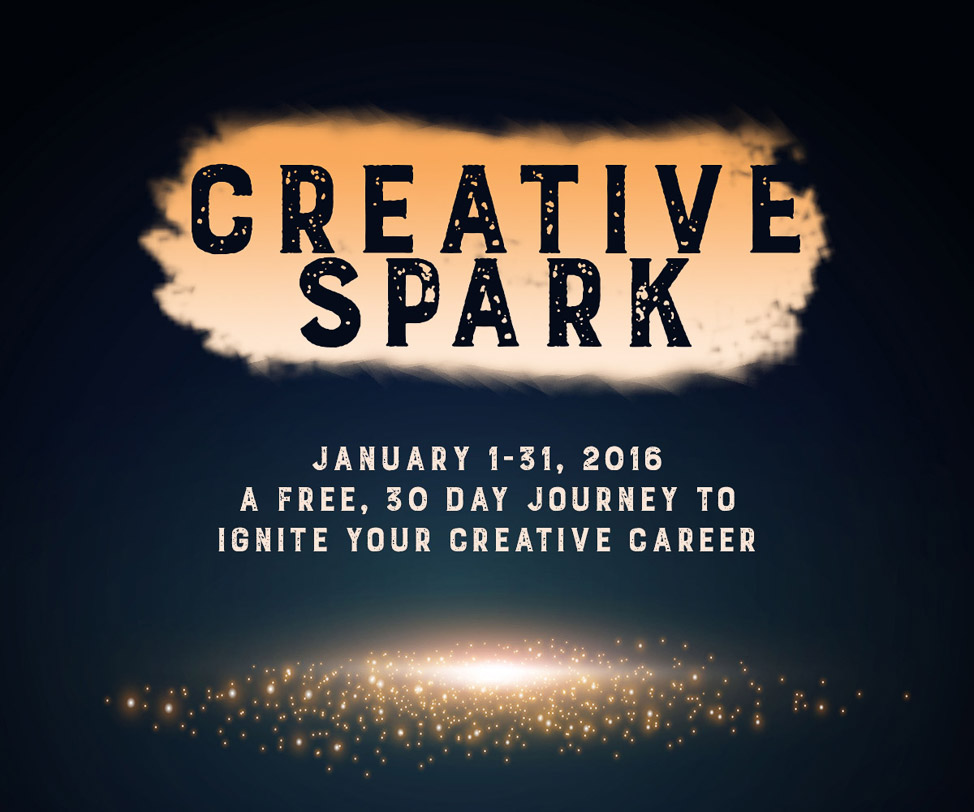 Maybe you've got big plans for a book, or a new creative business. Or maybe you just like to have fun. Anything goes!
Link to sign up here. See you in there!