What's a girl to do when her sweetie's out of town on St. Valentine's Day?
Throw the kids and an overnight bag in the Westie and head for the hills, of course!
It was already after 3pm on Saturday afternoon, when I realized Sunday was the day of lovers. Diego is in Tahoe to ski this week, and I'm not a big romantic anyway. But after a week spent mostly in front of my computer with minimal movement, I decided the kids and I needed a little Sunday adventure.
We arrived about an hour before dusk, with just enough time to check out the pools and set up our camp for the night. A mere 4o pesos bought us a million dollar view, and we seemed to be the only people staying the night.
After a simple dinner, darkness fell and the wind was too strong to enjoy a fire outside. Instead we popped the iPhone in a mug to amplify the sound and had a dance party in the bus.
About a half hour after lights out, I was just about to fall asleep, when a weird light shone in our direction. I got up, turned our light on, and tried to download that app that sounds like a shotgun loading. Not a strong enough cell signal.
I'm not going to lie. I was a bit nervous to be a solo female with two kids all alone about 30 minutes up a dirt road in the middle of nowhere.
I wouldn't have been nervous, except for of course there had to be that guy. Why does there always seem to be that guy?
He came over to chat with us shortly after we arrived. I interacted with neither an overly friendly nor cold tone, then when he seemed to be milling around, I sent Jaxon to "look for daddy." He issued a warning about touching a plant near our camp, and left without much fanfare.
However as soon as it was completely silent and pitch black, that weird light shone in our direction–he was the first person to pop into my head. My mind played that silly little what would I do if someone approached our bus game, and I quickly shut it down.
I pushed thoughts of being ambushed by weirdos from my mind with a can of Corona from the ice chest. I stashed  a huge screwdriver under my pillow, a can of WD-40 within arm's reach, and a saw-off ski pole by the door for good measure. With a slight beer buzz, I drifted off without much effort and woke to beautiful sunny skies and this view. Thank you universe.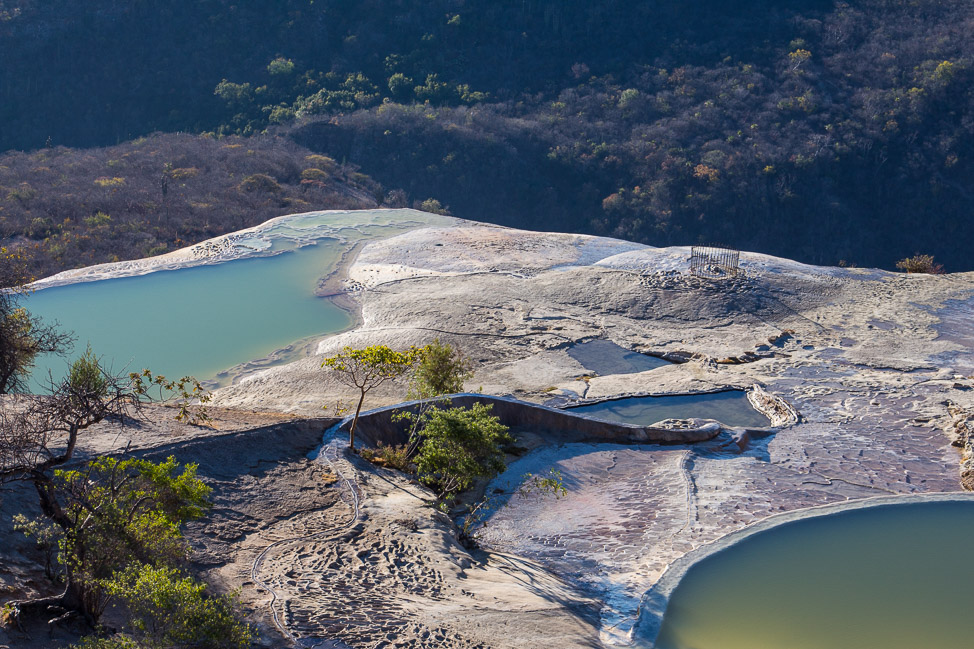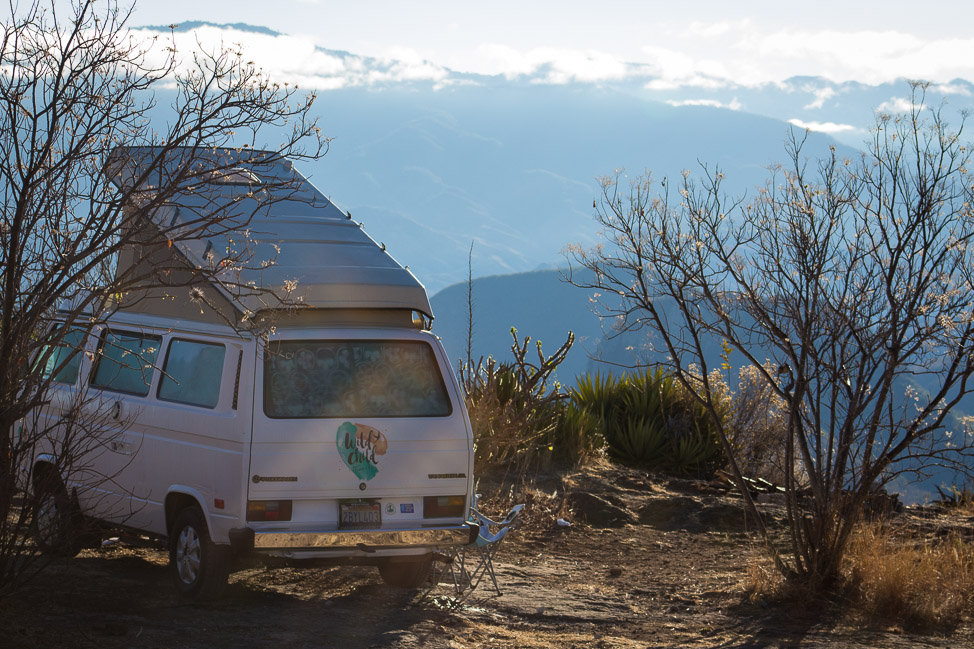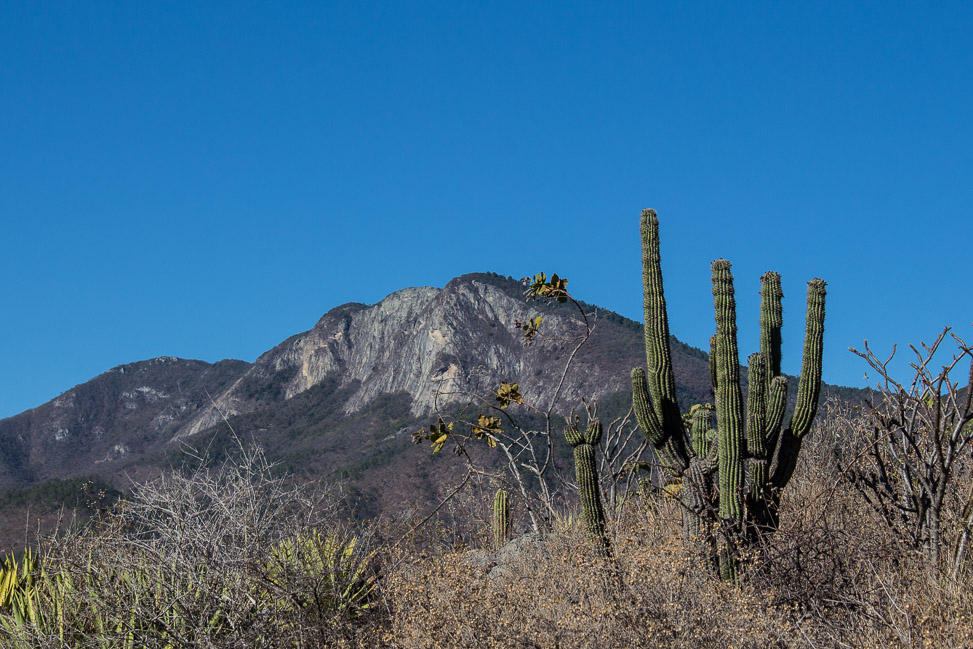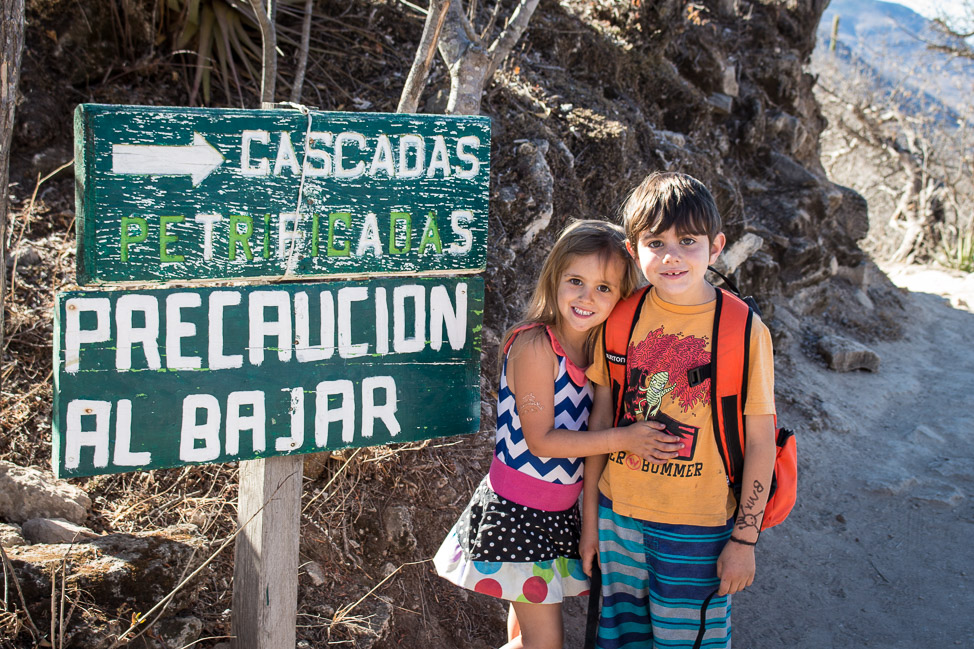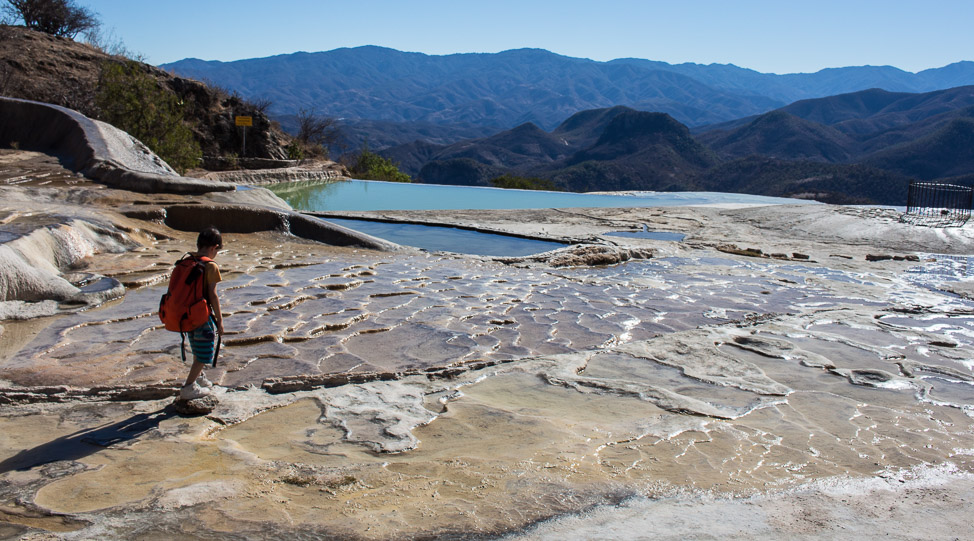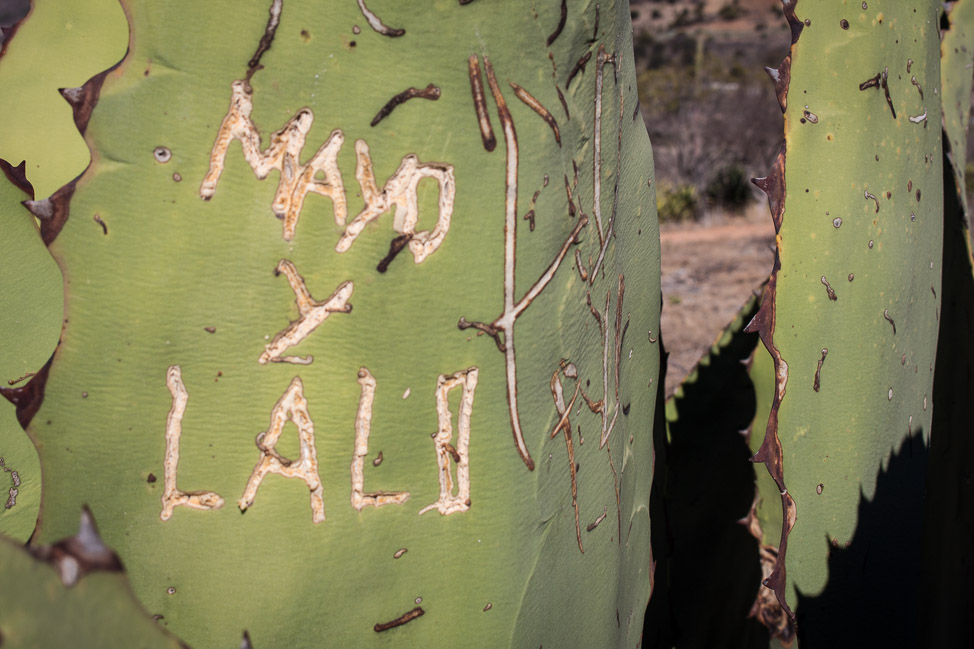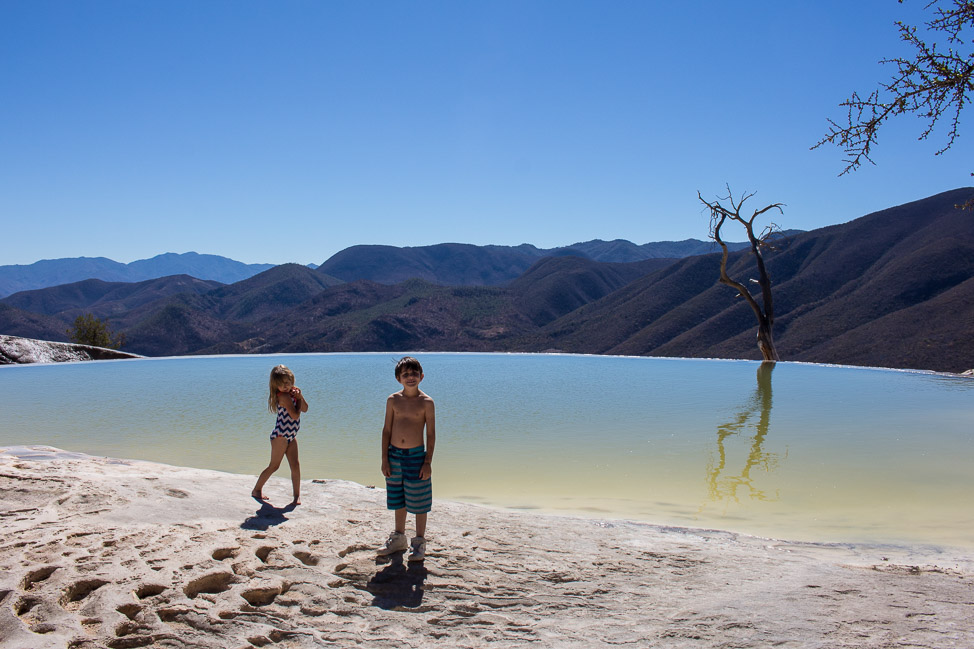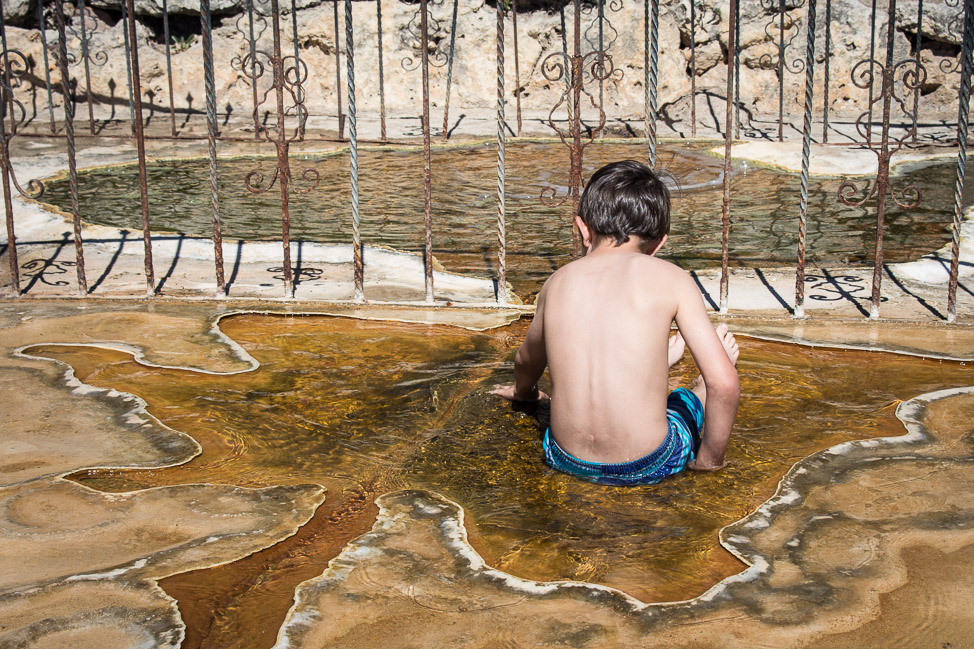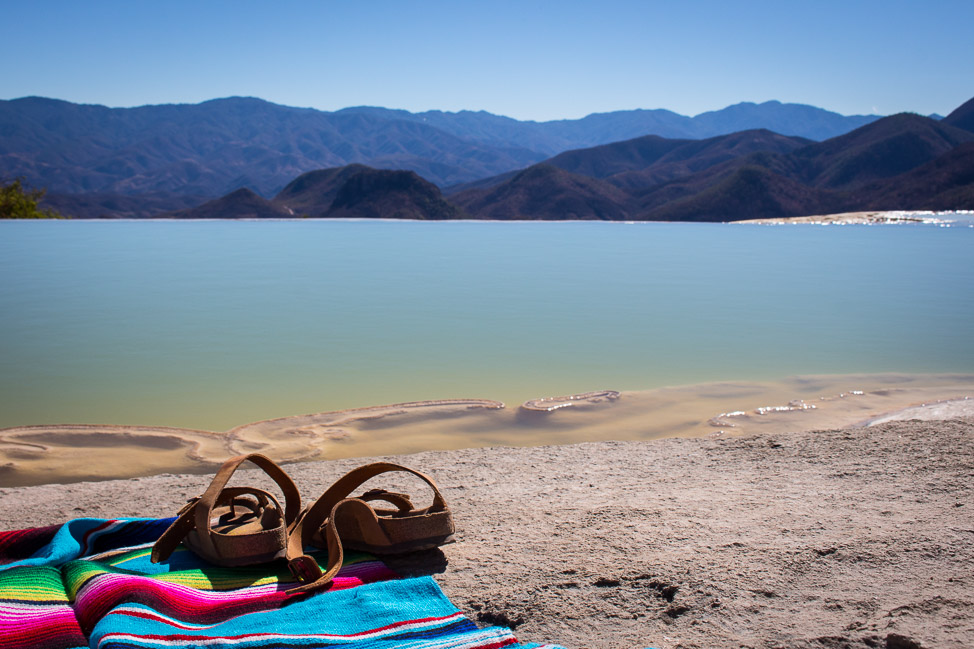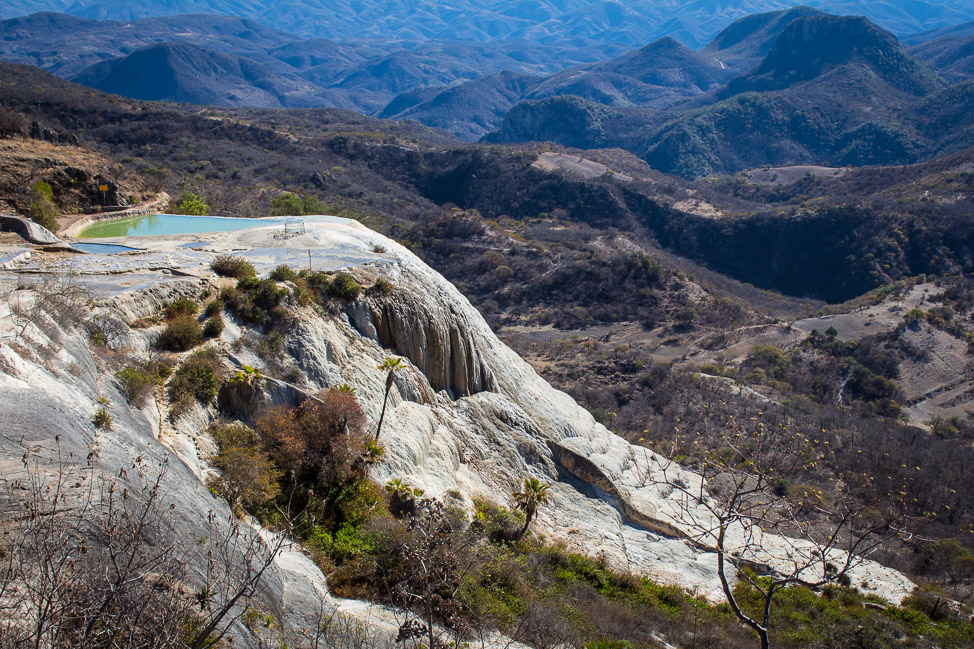 As you can see in the above photo, there's a petrified waterfall, however we never quite made it down to see it.
We were on our way there, when Jaxon announced he needed to poop. I sighed to myself like a woman alone in nature with two small children does, when one of them says the P word. Much to my relief, I found a roll of toilet paper tucked into my backpack.
A nearby hole saved me from digging and he did his business. I was just thinking how badass and self sufficient we were as I moved to help him wipe, when he lost his footing and fell backwards, yup….right into his own feces. Ugh.
He screamed like a small wounded animal and I did what any mom does in absolutely ridiculous circumstances.
I burst out laughing. As I was picking him up of course.
He screamed at me with tears of embarrassment running down his cheeks. I cleaned him up as best I could, and then he realized it was pretty funny too. We all laughed at the sheer misfortune and agreed we'd head straight to the pools and forget about the petrified waterfall after. Best not to push our luck.  (Thank god he's not old enough to read my blog yet. He was a really good sport, and even told his dad without me saying a word.) 
We spent our morning lounging by the most spectacular infinity pool, compliments of mother nature, before we headed to pack up camp.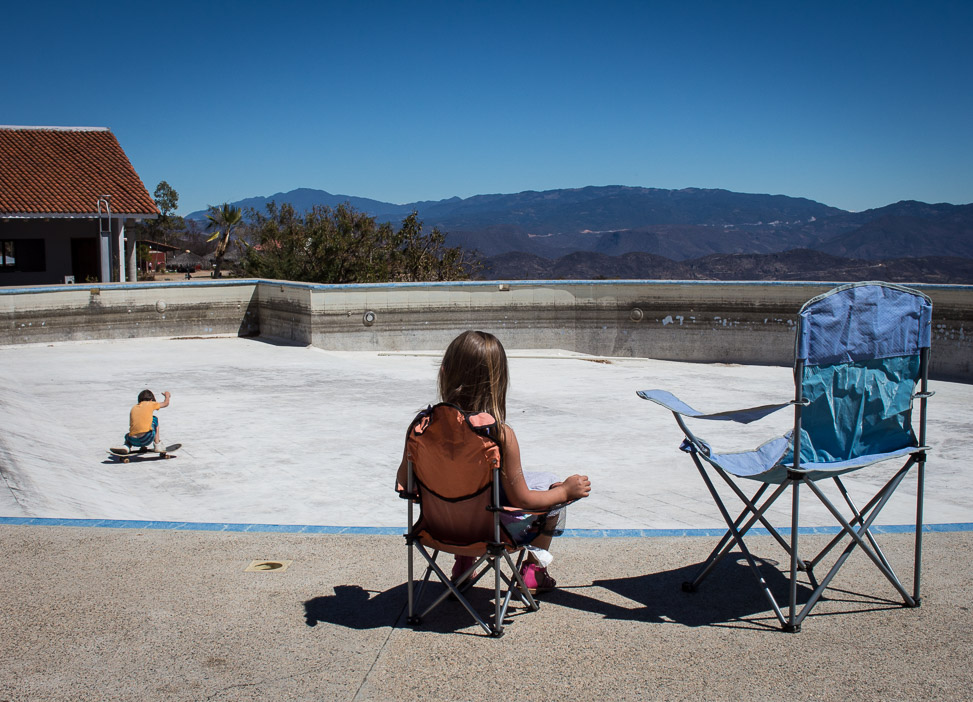 We finished our Hierve del Agua experience with a skate session in the abandon pool. Could we be anymore California?
Happy Valentine's Honey–we're alive and well, even if our egos were slightly bruised. Hope you're enjoying the snow!
To get there:
It's a straight shot out of Oaxaca on Hwy 190, then when you see signs for 170 take that and head straight on until there's a sign for San Lorenzo (it's exit # 62.) You'll drive through a few small villages, the road will turn to dirt for the last 10 kilometers or so. When the road forks, take the road that leads down. Took us about an hour and half to get there.
It's 25 pesos per adult for the day (that's about $1.15 USD) and 40 pesos per adult to stay over night. They have restrooms and these kitchen type things that anyone can use. It's all very rustic. We were the only ones there on a Saturday night. Well minus whoever that weird light shining person was, there without a camper.