I'm celebrating mothers everywhere this week, with a few mamas from my own inner circle.
Meet Christine Gilbert, a traveling mother, writer, photographer and film maker, who was recently honored by National Geographic as one of their Traveler's of the Year. Christine and her husband Drew have been running their business on the road since 2008, and not only that, they've added two new members to the family along the way.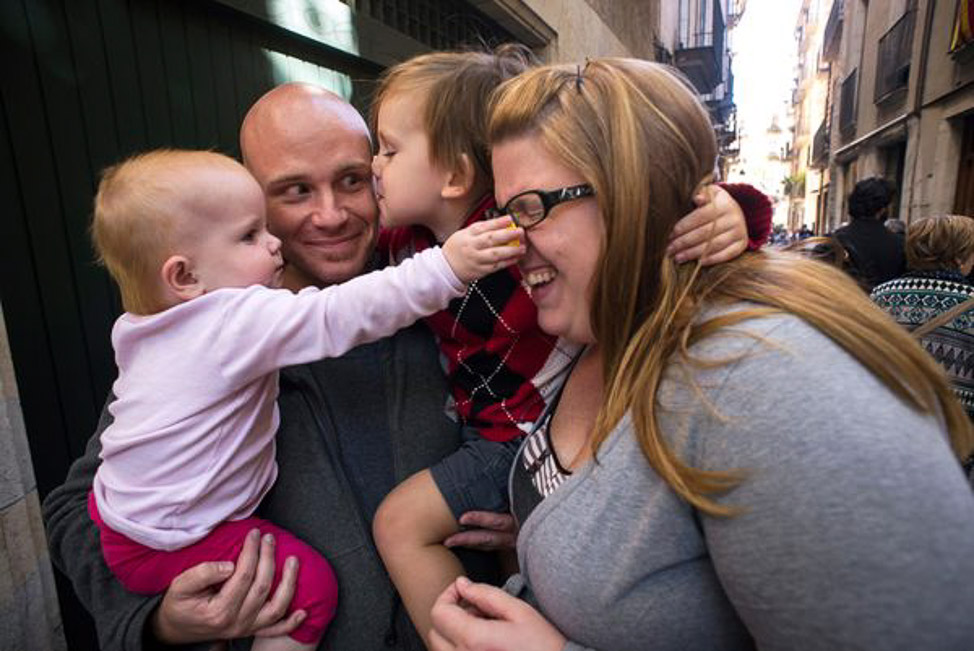 The photo originally appeared in National Geographic last year,
when the Gilbert's were named among the 2014 Traveler's of the Year.
I found Christine at a time when I was desperate for a change. Tired of feeling torn between my day job and my own creative dreams, I sought out a role model living the way I longed to–creatively, audaciously, and all over the globe.  I ached for the freedom to lose myself in faraway places like I did regularly before becoming a mother. So what does a desperate women do?  I googled "traveling families," and found Almost Fearless, Christine's blog.
I felt an instant affinity for her. We had the same sarcastic sense of humor, and unlike most travel bloggers, she was telling her story of a place–rather than the not to be missed tourist highlights, most writers in the industry share. But it was Christine's approach to parenting that shifted what's possible for me.  Like spending a summer biking across Europe with a 2 and 5 year old. Check out that story here on her Babies, Bikes and Baguettes page.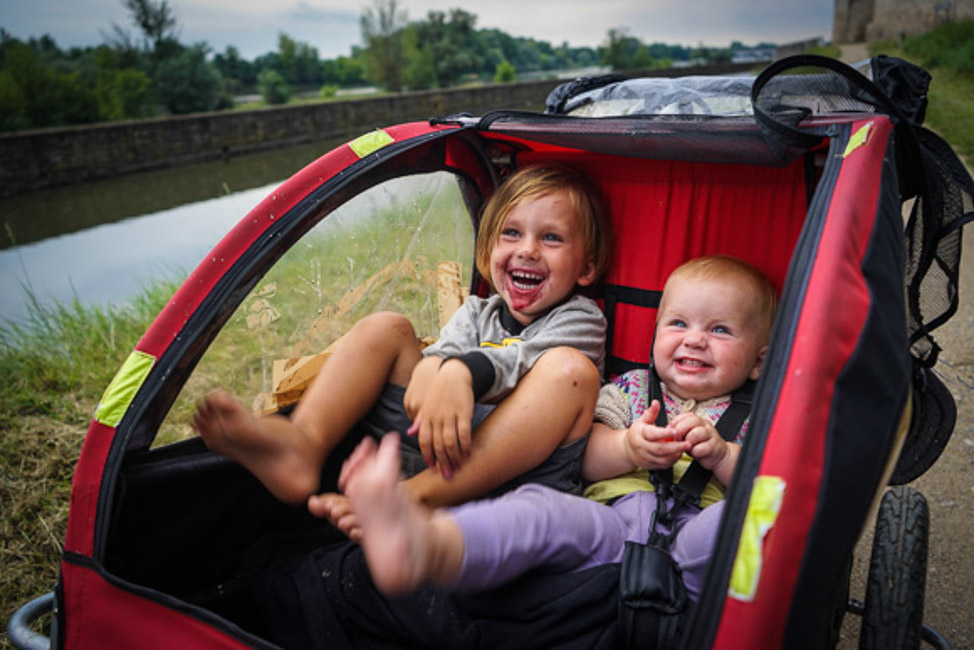 Stella and Cole, happy as long and Mom and Dad are happy!
(all photos taken by Christine Gilbert)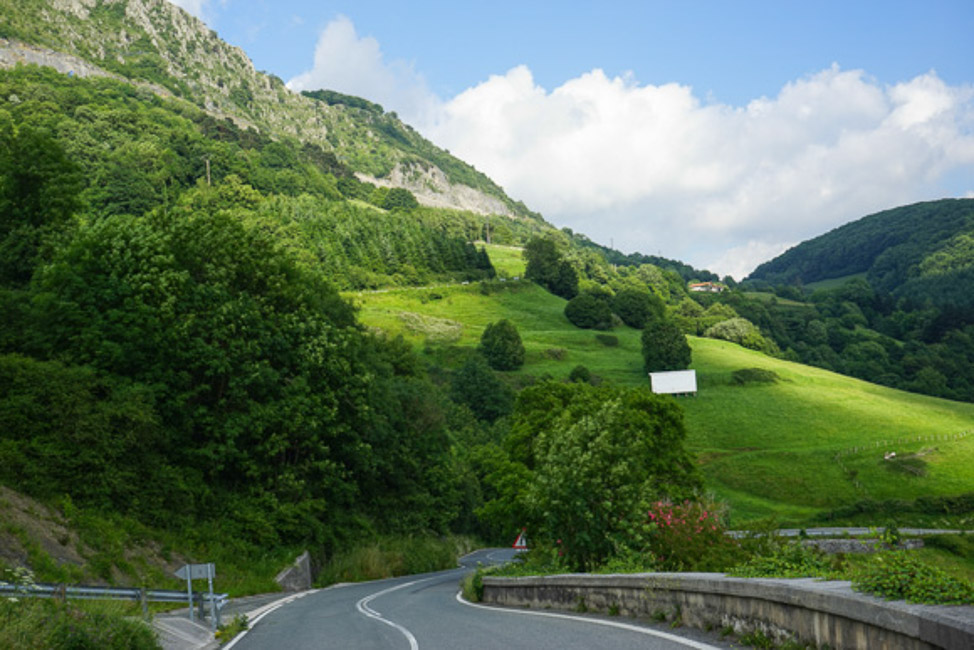 Their views along the Euro Vella 6 route,

The biking set-up, bought off Segundo Mano, the Spanish version of Craigslist
I knew if anyone could show me how a life of long term travel with a family was possible–it was Christine. So on a whim, I attended one of her blogging workshops in Barcelona, and returned home 10 days later absolutely on fire with excitement and possibilities. I wasted no time in dismantling my comfortable life in Northern California, and by August that same year, we'd sold the house and all of our belongings.  In October we boarded the whole family on a one way flight to Barcelona, and in November, Diego and I attended another of Christine's workshops together.
After spending  4 months with the Gilbert family as neighbors in Barcelona, I can honestly say, they are truly the most down-to-earth, fun, we can do anything family I have ever met. These guys work as hard (probably harder!) than the next family, but with complete control over how they do, where they do it, and with the creativity and passion most people only dream of. They completely blew the doors of what I previously thought was possible. Thank you Drew and Christine for the mind blow–seriously!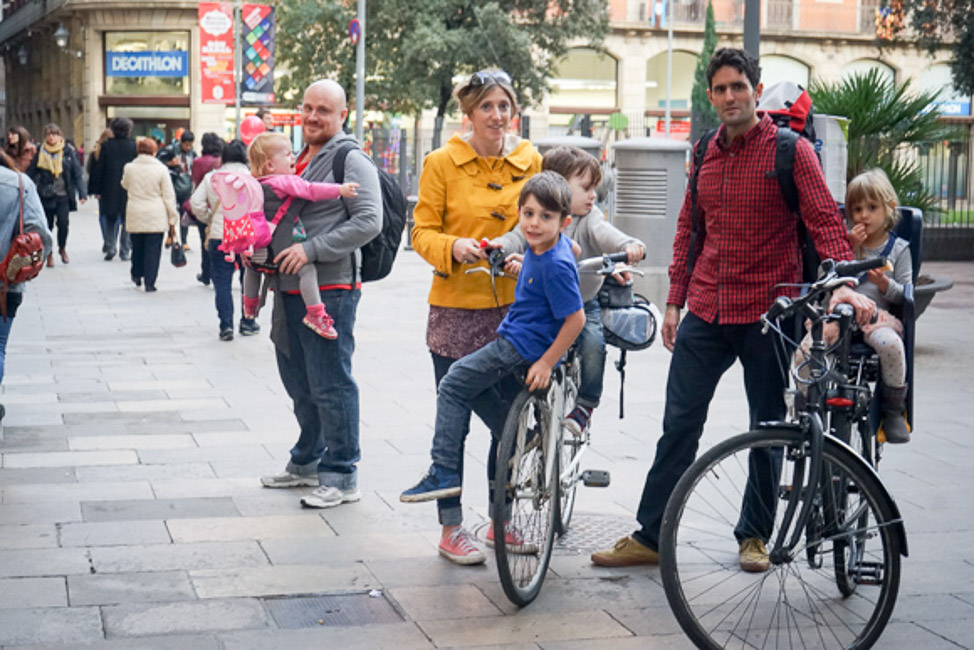 A Sunday spent with the Lozano & Gilbert in Barcelona
I tracked Christine down last week as she was backpacking through Turkey, alone with both kids, while Drew wrapped up their North American film tour of their documentary The Wireless Generation (a film about people working online so they can travel.)
"People think you're crazy to travel alone with two kids ages five and under," I told the Almost Fearless author. "How do you do it?"
Here's what she had to say:
The big thing is that travel does change when you have kids. You do have to go slower. But in other ways, it's better. You meet more people, you have more interesting interactions, you essentially transform from being the invisible tourist to being something of a curiosity. I think having kids is hard. I don't think travel with kids is necessarily any harder.

Q: I've heard you say, for you parenting is actually easier when you're traveling. Can you explain this?
A: For me, it is easier to travel with kids, then to stay at home, because it cuts down my work. I don't clean the house (I tidy, but housekeeping at the hotel handles the rest), I don't have to cook unless I want to, and my kids are constantly entertained by the novelty of being in a new place. Plus, we're outside our home culture.
The parenting rules we're all faced with in our own homes don't apply when you travel. I feel free to parent however I want, because there's no one there to gossip about me. I also travel to places that are less expensive, like Mexico or Turkey, because I know I can indulge in other things too, like having someone else do the laundry.
So for me, travel seems way easier. I would rather backpack with the kids across Turkey (like we did this spring) then sit in an apartment or house with them all day. It's a full time job to do those things, and when I'm home I don't get to jump in a cab and go see 2,000 year old ruins, or go try some local dish I'd never had before. I'm happier when I travel, so it makes the kids happier too.
Q: Do you have a parenting philosophy or a parting thought you would give to new moms?
A: The only things your kids will remember is how you made them feel. The rest is details. Focus on nailing that part, fill your kids up with love, and don't worry so much about the rest. It's all just style points. Your kids won't care. You can do this!
Christine recently shared what a typical day of travel with children looks like, you can read that post in it's entirety here.
A few of my favorite posts of favorite posts by Christine:
Tips on Having a Baby Overseas
How Monolingual Parents Can Raise Bilingual Children
Christine Gilbert is a writer, photographer, and film maker living in Barcelona. Her first book, a memoir, is due out this fall. You can follow Christine on her blog at Almost Fearless.
This is one story in the Wild Child Celebration of Mothers series.
You can read all the features here.